Hurricane Harvey Relief @ IWHS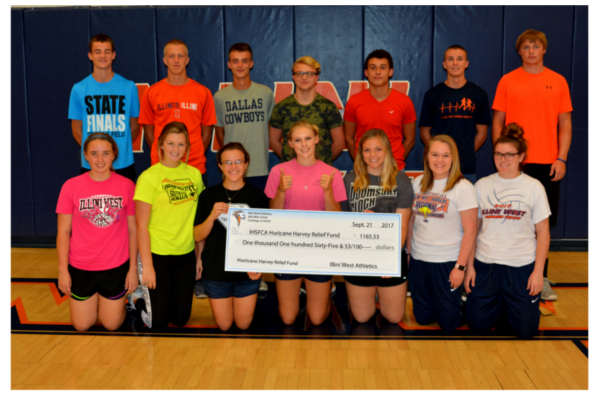 A few weeks ago the Illini West Athletic Department was contacted by the Illinois High School Football Coaches Association regarding an opportunity to participate in their efforts to collect money for their Hurricane Harvey Relief Fund. The money collected would be sent to the Texas High School Coaches Association so that they may distribute the money to athletic departments in need. Illini West collected money at 5 home events, each athletic program donated money, and we had a student, Jenna Ufkes, collect money during her lunch period. In total we raised $1165.53. Way to go Chargers and Charger fans! Thanks for your efforts!
In the picture we have students representing Volleyball, Cross Country, Golf, Football, Cheerleading, Dance, Boys and Girls Basketball, Wrestling, Boys and Girls Track, Baseball and Softball are,
Front Row L to R: Baylee Clampitt, Lara Pence, Annie Sholl, Whitney Young, Karly Flynn, Elizabeth Talley, Michaela Duffy.
Back Row L to R: Jacob Bryan, Jackson Porter, Jacob Deitrich, Hunter Wilde, Gabe Castillo, Dalton Melvin, Jacob Cole